Winter 2001 Membership Newsletter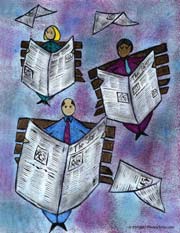 Issue 2001.4

The Bureaucracy Club of San Diego officially officiates!

***
'CRAT THOUGHT:

Bureaucracy is the epoxy that greases the wheels of progress -- Jim Boren

***
'CRAT FACT:

The City of San Diego's WATER DEPARTMENT AND METROPOLITAN WASTEWATER has...
Miles of Water Mains - 3,139
Number of Meters in Service - 263,468
Total City Water Consumption, including South Bay Area (Millions of Gallons) - 78,659
Number of Impounding Dams and Reservoirs - 10
Number of Water Treatment Plants - 3
Miles of Municipal Sewer Mains - 2,899
Millions of Gallons of Sewage Treated Per Day - 179
* Projected through June 30, 2002, unless otherwise noted.

***
CURRENT 'CRAT EVENTS:

American Association of School Administrators to meet on 2/15/2002, at the San Diego Convention Center.

San Diego Association of Governments (SANDAG)New Partners for Smart Growth: Building Safe, Healthy, and Livable Communities/January 24 - 26, 2002
This national conference, to be held in San Diego, will bring multiple disciplines together. Produced by the Local Government Commission and Penn State University, the event will include a dynamic mix of keynotes, breakout sessions, implementation workshops, salons, and local tours.

--------------
We are always looking for new ideas and topics for the monthly newsletter. If you have an idea or would be interested in writing an article, please let us know.